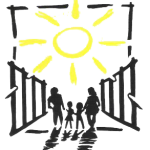 Tumaini Kwa Watoto (Children of Hope in swahili) is a charity that operates a family based outreach empowerment and foster care program aimed at orphans and vulnerable children, especially those living on the streets of Nairobi, Kenya.
They seek to rescue these children from the streets, reunite, reconcile and restore them with their families and/or place them in a foster family and be involved in the process of restoring them and their families to reach their full potential.
In the last few years we have built strong links with the charity. A number of our congregation have visited the charity to experience their work, we have raised money to pay for the building of a house which enabled the reconciliation of a family and partnered with them practically, in prayer and financially.
In July 2014, a team from the church visited Kenya, during which time we experienced life with TKW's team and carried out renovation work on Bethany Halfway House – which will be used as a stepping-stone to enable boys back to their families where they belong.
This year, TKW celebrated rescuing their 1,000th child from the streets and we look forward to continuing to partner with them to rescue many more.
CLICK HERE to visit their Website